1.70°C output water temperature and super COP 4.23.

2.Using R134A green refrigeration.
3.Energy saving 75%, saving more running cost.
4.Square design and monoblock type,easy installation .
5.Strong insulation effect, 24 hours water temperature only drop<3 °C.
6.Dual tank technology, higher water output quantity.
Working Principle of Air Source Heat Pump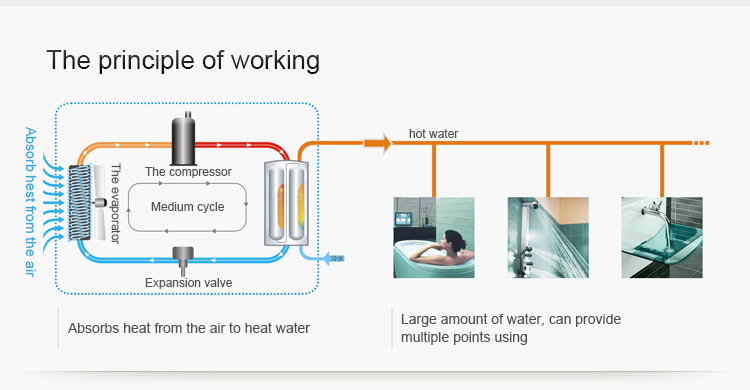 Heat pumps are machines that extract heat from one place, upgrade it to a higher temperature and move it to
another place. Air source heat pumps systems consist of four major elements that allow the refrigerant to pass
from the liquid state to the gas: a compressor, a condenser, an expansion valve and an evaporator.
Advantages of FDV1/Y160(A)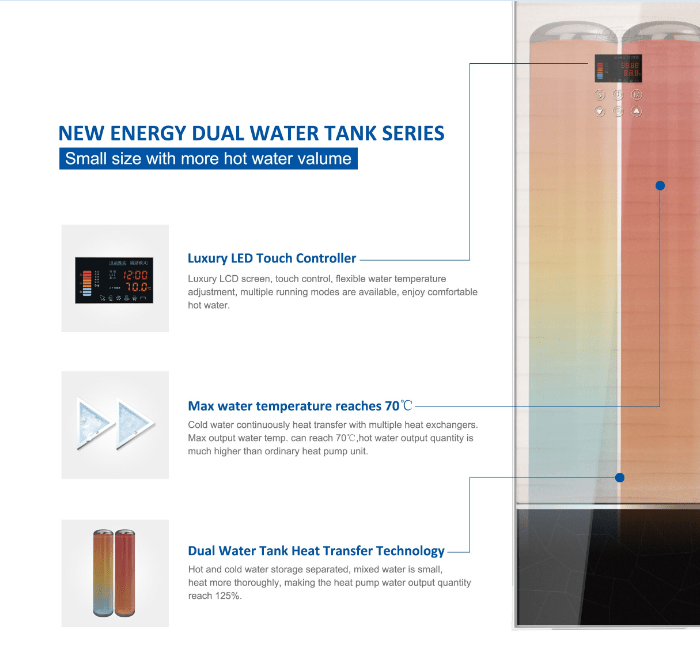 1.Luxury LED touch controller
Luxury LCD screen, touch control, flexible water temp. Adjustment, multiple running modes are available, enjoy
comfortable hot water.
2.Max water temperature reaches 70℃
Cold water continuously heat transfer with multiple heat exchangers,max Output water temp. can reach 70℃, hot
water output quantity is much higher than ordinary heat pump unit.
3.Dual water tank heat transfer technology
Hot and cold water storage separated, mixed water is small, heat more thoroughly, making the heat pump water output
quantity each 125%.

1.Dual inner-pot multi heat transfer
Little mixed water, rated water output increasing.
2.60mm Ultra-thick insulation layer
60mm high density polyurethane thermal insulation layer, 360 degrees of insulation, heat preservation effect is
30% increasing.
3.304 SUS inner water tank
Water tank with 304 stainless steel, compared with ordinary 304 stainless steel which is more resistant to corrosion,
anti-scaling, longer life.
4.Japan Mitsubishi Compressor
Adopted Mitsubishi compressor, high heating efficiency, stable running, 15-year lifespan.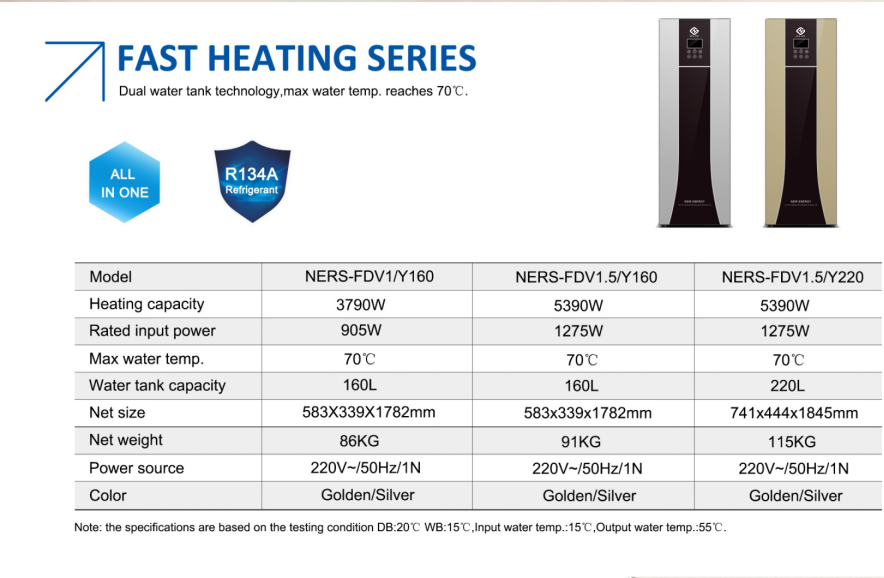 Packaging and Shipping of Our Heat Pump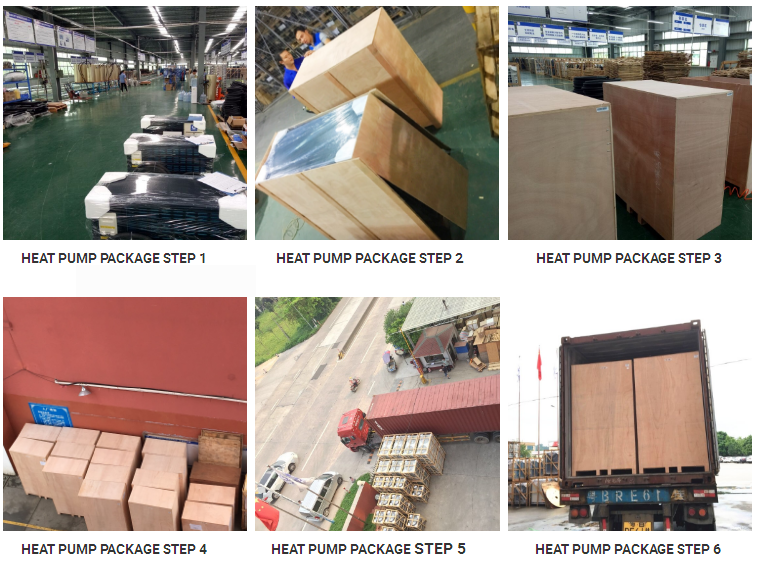 FAQ
1.what is the advantage of a heat pump?

Avoiding the problem of electric water heater leakage, dry, high power consumption.
Avoidingthe problem of drawbacks of gas water heater,such as producing harmful gases,Fits and starts etc.
Energy efficient, safety and environmental protection, all-weather operation, easy to use.

2.What is the function of this heat pump?

1)Domestic hot water all year round

3.What is the testing conditions of heating capacity basing on ?

Hot water test conditions : Ambienttemp.20°C/15°C,Water temp.15°C/55°C